I'm well on my way in reading the Harry Potter series (am halfway through Prisoner of Azkaban!) and here are some thoughts I've had and things that have happened since.
1. Not seeing the light of day because I was so engrossed in the book, and my parents are starting to worry about fresh air and the like.
2. Being told I can't read every waking hour by my parents. And when I protest I get hit with this famous phrase…
BUT I DON'T WANT TO BE AN ADULT…LEAVE ME ALONE WITH MY FANTASY BOOKS.
3. Getting asked what I did today…"well I read and read some more, then went to the gym and read while I did cardio. Then I came back and read some more." But seriously I only leave my book when I'm on the prowl for food, tea, or I have to pee.
4. Reading about Harry getting into mischief left and right exhausts me. When I was young and saw this in the movies it  seemed adventurous and fun, and now I'm just like: "DAMN KIDS. JUST STAY OUT OF TROUBLE FOR ONE CHAPTER WILL YOU?" Yeah I'm getting old…
5. When your parents get concerned about how much you read and try to intervene. 
6. Wanting all the glorious wizard food featured in the books. WHY IS PUMPKIN JUICE NOT A THING? SOMEONE GO BUY ME A CHOCOLATE  FROG…
7. When you realize that favoritism is everywhere…including Hogwarts. Yeah I'm looking at you Snape. Malfoy's not a little angel. He's a schmuck. But most of the time the favoritism is just evening a score so it's cool.
8. When you realize that the series only has seven books and you know it will be over soon. But your friends keep telling you things will be okay, but you remain skeptical.
I KNOW HOW IT ENDS…I SAW THE MOVIES.
9. And this is how you expect social interactions to go once you've finished the series.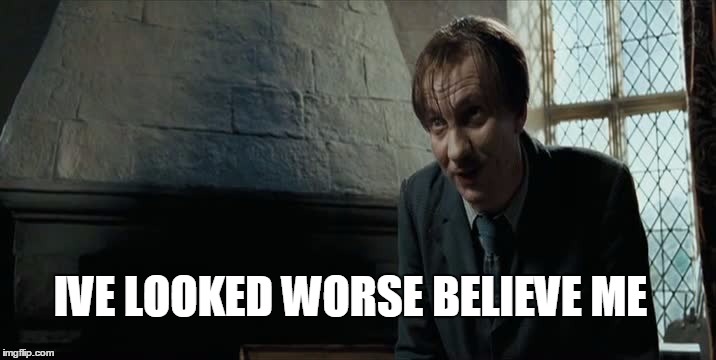 10. Thinking life would be so much easier if I had magic. Being a muggle is tough…but then again the scariest thing we usually deal with is doing out taxes rather than facing the Dark Lord. So I'll take it 🙂